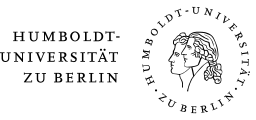 Georg-Simmel Center for Metropolitan Studies
One of the key aims of the Georg-Simmel Center for Metropolitan Studies is to foster an international network of academic departments and other institutes that are active in metropolitan researches. Currently, the Geography Department, the Institute of European Ethnology and the Institute of Sociology are the foundation of the Georg-Simmel Center.The center is also intended to refer to current issues of metropolitan politics, planning and to contribute to these in multiple ways, for example, through the organization of academic events or publication of specialized papers.
News
Student Conference at the Georg-Simmel-Center
We regret to inform you that the student conference will not be taking place this April. Due to the exceptional situation at the moment, all public events at Humboldt-Universität have been cancelled for the whole semester. We hope to see all of you next year!
No Think & Drink this semester
Sadly, we will not be able to host our usual Think & Drink series this summer semester due to the complex situation at the moment. We hope to be back next winter semester!
Events
Check our weekly Think and Drink Lectures every semester, organzed in cooperation with the Urban and Regional Sociology Department. 
Find the last semester's programm attached.
---