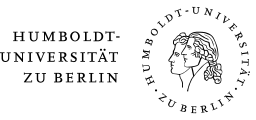 Georg-Simmel Center for Metropolitan Studies
One of the key aims of the Georg-Simmel Center for Metropolitan Studies is to foster an international network of academic departments and other institutes that are active in metropolitan researches. Currently, the Geography Department, the Institute of European Ethnology and the Institute of Sociology are the foundation of the Georg-Simmel Center.The center is also intended to refer to current issues of metropolitan politics, planning and to contribute to these in multiple ways, for example, through the organization of academic events or publication of specialized papers.
News
Student Conference at the Georg-Simmel-Center
All students, who finished their Bachelor-, Master-, Magister-, or Diplom-thesis in 2019, are welcome to apply to the student conference at the GSC.
Application deadline is February 28th, 2020.
Apply here:
bueroleitung-gsz@hu-berlin.de
Call for Applications
Stadtlabor for multimodal anthropology
Seminar Sessions, WS 19/20
Mondays, 4-6pm ct
Institute for European Ethnology
Mohrenstraße 41, 10117 Berlin
Room 107a
Programme
Fear of "Snackpoint Charlie" On the 9th of September 2019 a colloquium with experts took place around the debate of the planned "education and memorial site" at the former border crossing Checkpoint Charlie. Christoph Sommer from the GSC was on of the experts.
Good Practice for Industrial Heritage Sites
Results of the research project "Urban Development and UNESCO-World Heritage Sites": an important joint approach for urban development and the conservation of industrial heritage sites.
Events
Check our weekly Think and Drink Lectures, organzed in cooperation with the Urban and Regional Sociology Department. Find the current semester programm attached.
---