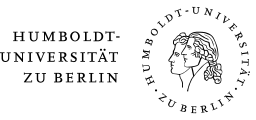 Georg-Simmel Center for Metropolitan Studies

One of the key aims of the Georg-Simmel Center for Metropolitan Studies is to foster an international network of academic departments and other institutes that are active in metropolitan researches. Currently, the Geography Department, the Institute of European Ethnology and the Institute of Sociology are the foundation of the Georg-Simmel Center. The center is also intended to refer to current issues of metropolitan politics, planning and to contribute to these in multiple ways, for example, through the organization of academic events or publication of specialized papers.
News
Walk & Talk
Dear Friends of the Think & Drink Colloquium,
we are pleased to announce that in June and July 2021 we will resume our program in a new format adapted to the pandemic situation: Walk & Talk!
Walk & Talk dates will always be on Mondays from 6:30 to 8 pm. Since the number of participants is limited to 25 people, registration is requested. Proof of a current-day test result and compliance with Corona's protective order is mandatory for participation. In addition, please refer to the faculty guide for conducting face-to-face formats during the pandemic. Up-to-date information on space availability for each Walk & Talk date will be posted on the GSZ homepage.
Start points for the tours will be communicated via email. 
Please send registrations to Medina Diedrich: gszbuero@hu-berlin.de

Dates:
07.06.2021: "Reshaping property relations through the law" (Prenzlauer Berg) with Joanna Kusiak
14.06.2021: "Community work on the outskirts" (Hohenschönhausen) with Beate Janke & Julia Förster Places available
 
21.06.2021: "Place relations, class and deindustrialization" (Siemensstadt) with Kaspar Metzkow Places available
 
28.06.21: Trust, public space and the city: Reflections on the relevance of play (Gleisdreieckpark) with Talja Blokland Places available
05.07.2021: "New participation formats at the House of Statistics" (Mitte) with Carolin Genz Places available
12.07.2021: "Neighborhoods of welcome" (Kreuzberg) with Nihad El-Kayed & Leoni Keskinkılıç Places available
---
Call for Papers - Temporalities of Urban Nature: imaginaries, narratives, and practices
The Temporalities of Urban Nature workshop series seeks to explore how different temporal entanglements structure, affect, and co-produce urban landscapes of the Anthropocene city through three overlapping thematic approaches (narratives, imaginaries, and practices). 
We invite urban nature scholars across the social sciences, the humanities, and the fields of arts and architecture to reflect on the temporalities of urban nature over the course of three connected workshops in Venice (Università Iuav di Venezia), Malmö (Malmö Universitet), and Berlin (Georg-Simmel-Center for Metropolitan Studies, Humboldt-Universität zu Berlin) respectively. We particularly encourage submissions that display strong empirical engagements with the regions in question. 
Please send an abstract (300 words maximum plus 3 keywords) and a short bio (100 words maximum) to urban.nature.temporalities@gmail.com
Key dates: Abstract deadline: 15 June 2021 // Notifications of abstract proposals: 2 July 2021
1st workshop: Venice - 23-24 September 2021 // 2nd workshop: Malmö - 25-26 March 2022 // 3rd workshop: Berlin - 24-25 June 2022
For the full CfP and more information: https://urban-nature-temporalities.com/
---
Call for Submissions - Emotions and the City
Emotions play a role in the way we see, inhabit and build cities. Whenever we avoid walking through dark parks at night, design uncomfortable benches to scare homeless people away or cheer or suffer collectively at the city's football stadium, emotions are part of the social and physical landscape and the way we consume and produce urban spaces and places.
Our GSZ member Nina Margies invites for contributions in a variety of formats and media (e.g. articles, visual arts, activist and community voices, etc.) that look into the relationships between emotions and cities. How do emotions shape the urban and how does the urban shape our emotions? 
Deadline for submissions: 15 June 2021. Selected contributions will be published in the edition "Emotions and the City" in the Urban Transcripts Journal.
Further information: http://journal.urbantranscripts.org/article/emotions-and-the-city-call-for-submissionsclosing-15-06-2021/
---
Interview by the rbb with Prof. Dr Talja Blokland on the pandemics consequences on Berlin and its inhabitants
Where many people live close together, the virus spreads particularly quickly, they say. The rbb asked: What is it like to live under these conditions in a Neukölln social housing neighborhood? Urban sociologist Talja Blokland says: We should definitely not get used to empty streets.
The interview can be heard here.
---
Events
Check our weekly Think and Drink Lectures every semester, organzed in cooperation with the Urban and Regional Sociology Department. 
Find the last semester's programm attached.
---